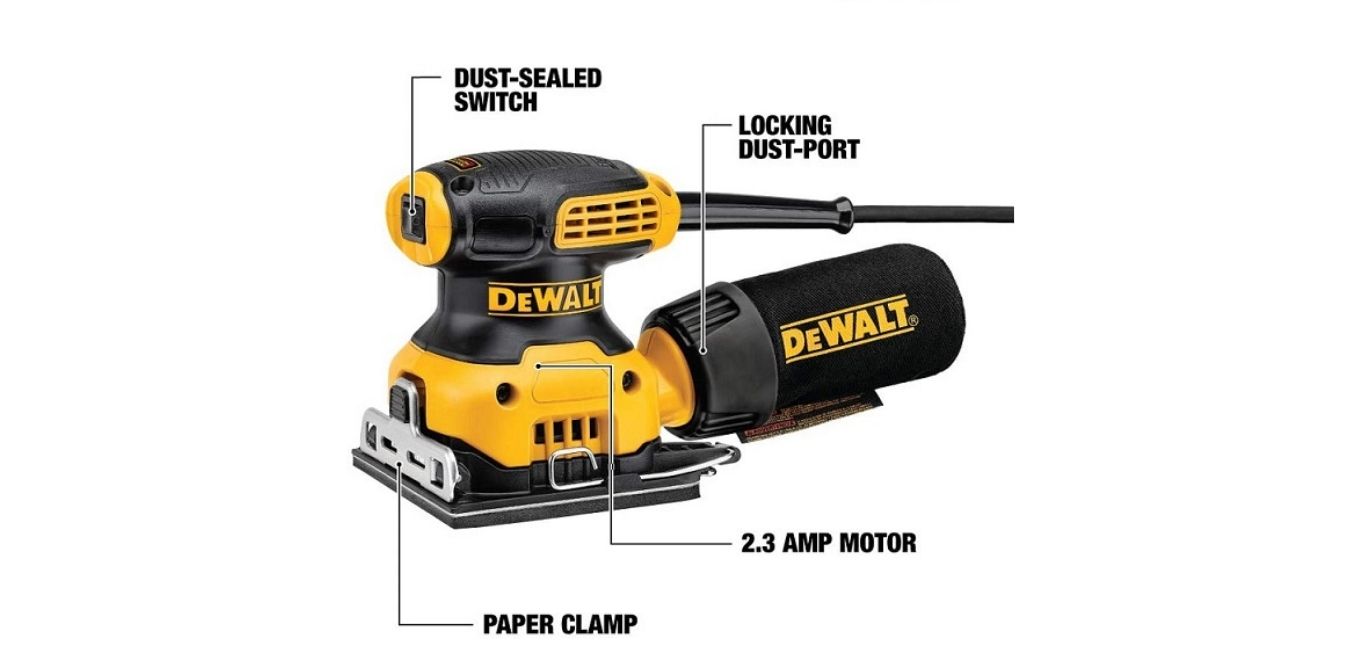 The dewalt dwe6411k is a palm sander that is every woodworker's dream for any kind of projects. Especially the large ones.
It's easy to use and certainly offers the best value for your money.
Pros
• It's affordable given that you can use old school sander instead of pads.
• It operates at 14,000 oscillations per minute.
• Once attached, the sandpaper is sturdy thanks to a lever and a clamp.
• It controls the vibrations nicely for a quality sanding experience without hurting your hands.
Cons
• Some users are put off by the fact that it's a corded tool. This should not bother you if you are anything like me and don't want to stress about charging a battery frequently.
• Furthermore, using traditional sandpaper is not appealing to some users.
Features
• Motor
This corded sander has a powerful motor of 2.3 AMP that's sands at 14,000 oscillation per minute.
• Paper retention
The dwe6411k has a stronger paper clamp feature allowing it to better retain paper.
• Vibration control
Dewalt has added a separate counterweight so that you don't feel the vibration too much.
• Dust collector
This model has a port that fits easily into the dwv010 and dwv012 dust collectors. Furthermore, you can lock the vacuum hose with the sander thanks to locking system on the port.
Specifications
Inside the box you will get the sander itself, a dust-locking system a hole puncher and a Dewalt bag to carry your tool.
Here are some specifications:
• 14,000 OPM
• The device weighs 3 Pounds
• Works on a 120v
• The warranty is valid for 3 years
• The motor has 2.3 amps.
Who is this product for?
Honestly speaking any woodworker from beginner to experienced will benefit from this sander. It's recommended for most diy projects at home.
Dwe6411k alternatives
Although Dewalt is a trusted brand when it comes to buying diy power tools, other brands such as Bosch and Makita are equally great.
The bosch ros20vsc palm sander for example is a sure alternative to the dewalt dwe6411k.
Indeed, the bosh 5-inch sander is an orbital polisher that offers a very good pad and rotation for a quality finish to your projects.
Frequently asked questions
Question: Will this tool work with my 1 ¼" vacuum hole even if it's not made by Dewalt?
Answer: Yes you can use the DWV9000 universal quick connect adapter to connect to vacs not made by Dewalt.
Question: What Dewalt vacs are compatible with this sander?
Answer: This sander has a dust port that can connect directly to the dwv010 and dwv012 dust extractors.