A friend of mine moved to town recently and wanted help with solid wood furniture. We stumbled upon rubber wood. I could not help but wonder was rubber wood is and it is any good for furniture.
Originally from the Amazon rainforest and now from plantations in Southeast Asia and Africa, rubber is an exotic wood that is both hard and resistant. Its interesting characteristics, which are worth knowing, allow it to find its place perfectly in furniture and interior design. So what exactly is rubber wood?
Rubber wood or Brazilian rubber (Hevea brasiliensis [1]) is an exotic wood of the Euphorbiaceae family which originates from the Amazonian forest, in Brazil. It is a large tree that can reach up to 30 m in height and 1 m in circumference.
It is better known as the rubber tree because of the laticiferous tissues that compose it and from which the latex [2] is extracted to be transformed into rubber. If Brazil was once the main cultivator of rubber, now this species is found in abundance in Southeast Asia and Africa.
The origin of rubber wood
The rubber tree that is used for the manufacture of furniture and other interior equipment of a house is a wood that is cut down after several years of latex production. It no longer provides natural rubber and therefore becomes firmer, which is why it is an excellent material for furniture and interior design.
This species is imported from Africa (Liberia, Nigeria, Ivory Coast, Cameroon, Democratic Republic of Congo) and Southeast Asia (Thailand, Indonesia, Vietnam, Indonesia, China, India…) where the climate favors its growth and where its latex is exploited for the production of natural rubber.
Now that we know what a rubber wood is and where it comes from, let's see how it looks like.
Visual overview of the rubber tree and a rubber wood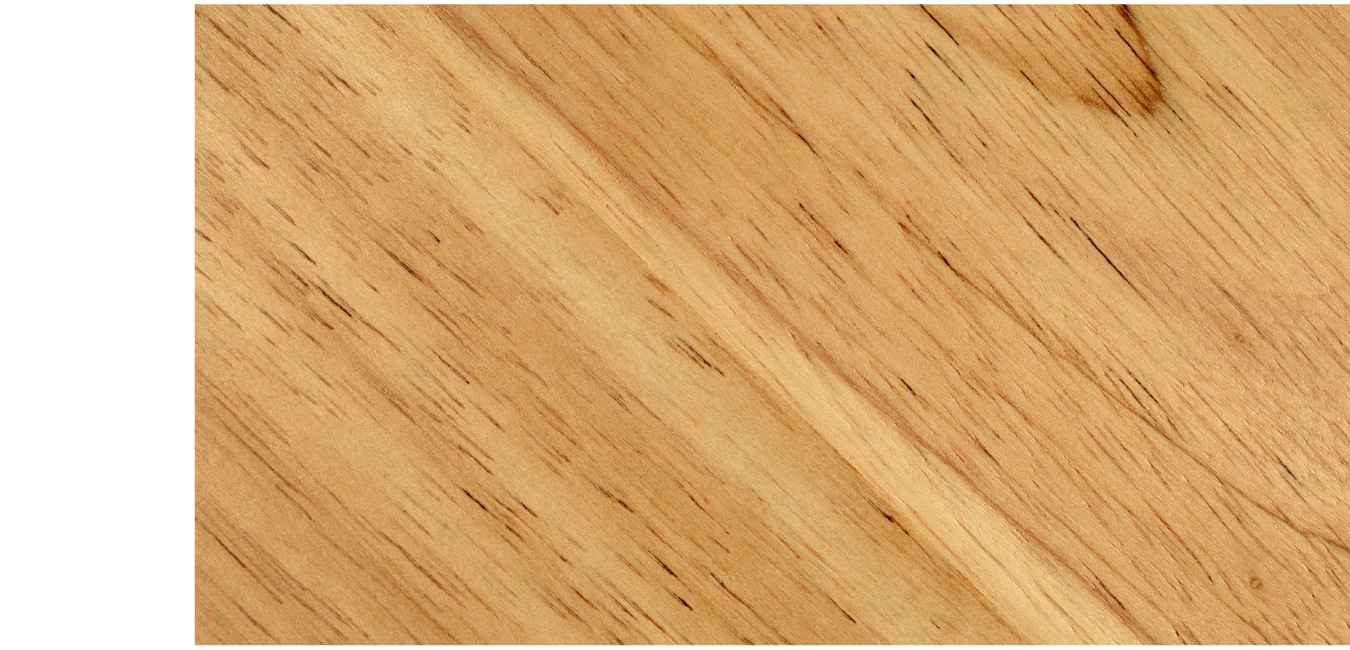 The rubber tree is easily recognized by its light, creamy white color and the fact that it has a medium to coarse grain. This color is very distinctive and makes the tree attractive to do-it-yourselfers and wood decorators. It also allows for a variety of finishes (raw, natural, oiled …) and many possibilities of color.
When rubber wood is first sawn, it is a light blonde to medium hue, but following exposure to light and the kiln drying process, it darkens and acquires pinkish undertones and medium brown streaks.
Heartwood and sapwood might be difficult to distinguish based on looks alone. The vertical vessels give the wood a hint of character while giving the grain a rough appearance.
Composition of the Hevea
The sapwood of the rubber tree is not distinct from the heartwood. The grain of this wood is sometimes wavy.
Is rubber wood actually wood?
Beginning in the middle of the 1980s, rubber wood appears as a substitute resource for the timber industry and other wood-based products. It has since grown to be one of the most popular for this sector.
Contrary to its name, rubber wood is actually a true hardwood that is medium in hardness, has a medium texture, and is comparable in density and weight to maple or ash.
Although rubber wood has a different appearance and set of qualities from oak or teak, it is also known as (Hevea brasiliensis [3]) parawood or Malaysian oak.
The rubberwood is a popular option for home furnishings stores since it is readily available in a wide range of colours, gorgeous textures, and finishes.
Rubber wood naturally has a poor level of durability, but after being treated with preservatives, it becomes excellent for both indoor and outdoor use.
The furniture desks, chairs, cabinets, interior millwork, and kitchen items that employ rubber wood most frequently are cutting boards, knife blocks.
Even tiny pieces of rubber wood are employed; by gluing them together, panels are created from which table tops, trays, and chair seats are made.
Is rubber wood good quality?
It has a quality that stands the test of time. Indeed, rubberwood, a hardwood, is valued for its strength, durability and impact resistance. It also does not shrink or swell over time.
One of the best woods for producing furniture is rubberwood. Its strength and flexibility make it the perfect material for carvings, trays, and commercial cabinets, among other things. It's worth noting that in Asia and Africa, the rubber tree is now a commercial plantation since it is also used to collect rubber.
Despite being chemically treated to give it a stable appearance, this wood is more suited for indoor use. Although the surface may be rough due to the massive pore size, it does perform well.
Few points to note tough: this wood gives the furniture robust stability and retains screws and nails firmly in place. It might be challenging to use saws and blades on it due to its latex secretion. Because it can support clean designs and bring out all the small details, rubberwood is preferred for carving.
Furthermore, although this wood can be painted, a lot of priming and filling will be required to smooth down the rough surface.
Rubberwood's big pores allow it to simulate other types of wood. Both by hand and by machine, this wood is simple to carve and turn into furniture.
Finally, rubber wood is kiln [4] friendly that means it is easily managed in the kiln drying process. In this process, the wood is exposed to 100°C. In 2019, 134.84 thousand cubic meters of rubberwood was produced in Thailand [5].
The main technical characteristics of rubber wood
Sapwood: not distinct
Heartwood: pale cream, often with a pale sheen
Grain: straight, occasionally wavy
Contrefil: light
Grain: medium to coarse
Hardness : medium-hard (2.4 < d < 6 N / mm)
Average density : 600 kg/m3
Stability in service : not very stable
Durability: non-durable
Impregnability: class 1 – impregnable
Use class: class 1 – interior (no risk of wetting)
Buoyancy: buoyant
Ease of cutting: excellent
Water repellency: non-water repellent
Is rubberwood toxic?
Rubberwood hasn't been linked to any additional health risks like other types of wood, except from the conventional one like dust. If certain people have allergies to natural rubber or latex, they could react to rubberwood.
Though, online, there are numerous articles written by independent newspapers and animal activists that quote numerous sources to show how rubberwood manufacturing practises are not only detrimental for the environment but also how the cultivation of this material is hazardous to species in its native nations.
The issue is that while enterprises are motivated to produce vast amounts of this resource, they frequently adopt unsustainable techniques, such as ignoring wildlife species that depend on a variety of plant life or using pesticides to increase output.
In spite of this, rubberwood in its natural condition, when permitted to develop at its own rate without using any chemicals, is not poisonous to humans.
As we've already discussed, those of you who are allergic to latex should avoid handling raw rubberwood and only handle slats that have been dried in a kiln and processed.
However, depending on the chemicals used in rubberwood's growth process, it can be toxic if the purification process is not carried out properly.
For this reason, you should always make sure that the rubberwood you get is FSC certified [7], as this enables you to hold suppliers accountable for processing and sustainability standards violations. Simply put, is rubberwood poisonous? It isn't always the case, but typically it is not.
Is rubberwood waterproof?
Rubberwood is not waterproof, unfortunately. It shouldn't be used outside because rainy seasons can wash away the chemicals that keep trees protected. As a result, fungal and insect attacks become a possibility. Rubberwood would rot and deform if it were to become overly damp.
Now that you know all about some qualities of rubber wood, you may be wondering if it's any good for furniture. So let's dive in!
Rubber wood furniture is good or bad?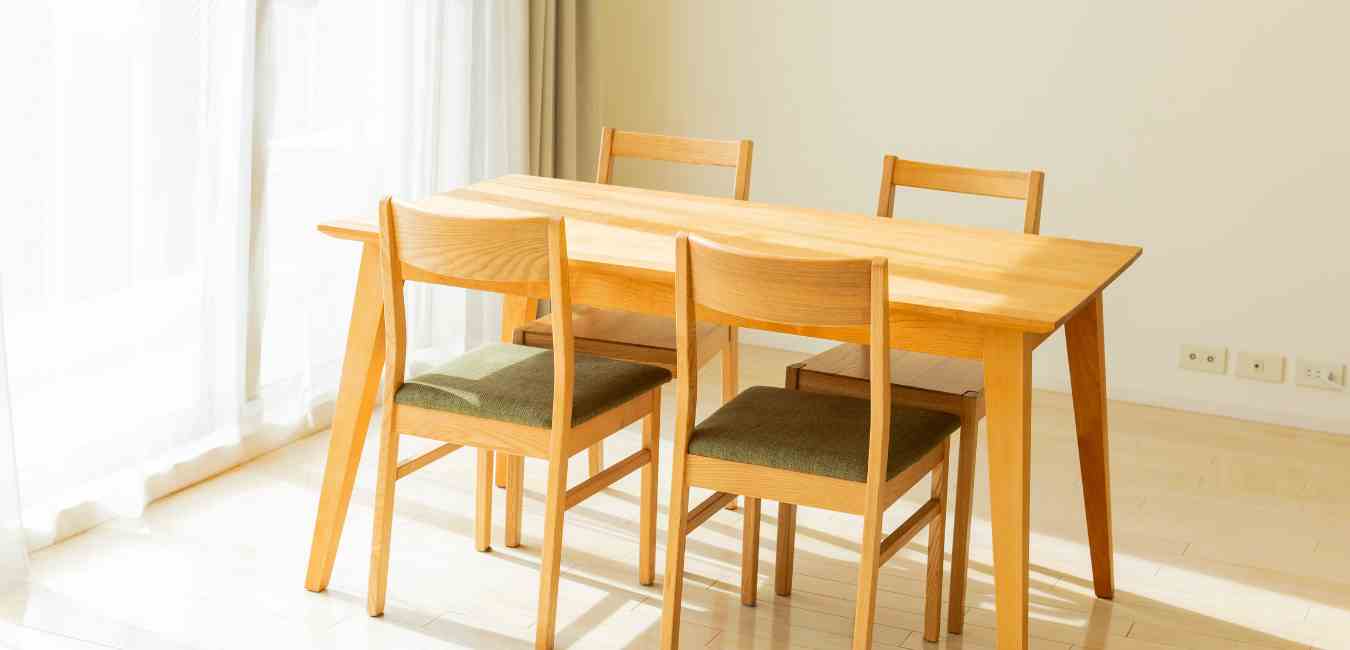 Hevea is now recyclable, even if for a long time it was incinerated when it stopped producing latex, because it was considered a waste product. Cut down after 20 to 30 years of exploitation, or more precisely as soon as it reaches maturity, it provides a naturally firm, resistant and aesthetic wood that can be used in most interior fittings and also in interior joinery.
Interior doors, windows, partition frames, distributions, cupboards, bathtub and technical duct fronts, shutter boxes, ceilings and false ceilings, attic hatches, claddings and coverings, various staircase components (steps, nosings, risers, hoppers, stringers, etc.) are all equipment requiring all the natural performance of rubberwood and its wood.
Rubberwood's logs is also used to manufacture furniture such as coffee tables, bookcases, beds, consoles, shelves, chairs, TV furniture, chests of drawers.
The branches of the rubber tree as well as the small wood are used in the manufacturing process of derived materials such as medium density fiberboard (MDF) and glued laminates.
Why choose rubberwood furniture?
If you want to create a chic and warm atmosphere in your home, then rubberwood is for you!
Indeed, its beautiful blond color attracts the eye and illuminates each room with shades of white and gold.
Rubberwood furniture is therefore an excellent choice to decorate your living room, bedroom or even cooler rooms like the kitchen or bathroom.
This color, very particular, makes it very attractive to the eyes of lovers of decoration, because it brings brightness by marrying perfectly with all types of objects.
What is the advantage of rubberwood?
Belonging to the category of exotic woods like teak and ipe, rubberwood is naturally robust and strong. It also has a better resistance in time and excellent mechanical properties. If you choose a piece of furniture or a worktop made of hevea, you are sure to have a piece of equipment that will resist better to shocks than the one made of classic wood.
Despite the fact that it is dense in nature, it is easy to work with and to cut, which is why it can be a joy for do-it-yourselfers. In addition, it has excellent screwing and gluing properties.
Rubberwood is also popular for its aesthetics. Its light color will not fail to blend harmoniously with different decorative styles and offer a particularly refined touch to a house. In addition, it offers a wide range of colors and subtle shades for a wide choice of personalization. Hevea is a wood that can lend itself to all kinds of fantasies: black, red, gray, white…
Another advantage of this species is that it offers a good quality/price ratio. Although hevea is an exotic wood, it is about 25% cheaper than some of its cousins. It should be noted that the use of rubber does not affect the primary forests and is therefore of great environmental interest. The reason is that it is a plantation wood that is cut down only after several years of latex production. Once cut, it is replanted.
What are the disadvantages of rubber wood?
Even though rubber wood is as strong as it is solid, its resistance to humidity and to biological wood degradation agents (fungi and termites) leaves something to be desired. This is why it is exclusively intended for interior use, especially in dry environments.
In case of temporary humidity, this wood species requires an adapted preservation treatment. On the other hand, its use is not recommended for the creation of a room that will be in permanent contact with moisture.
Another disadvantage of rubberwood is that it often tends to crack, even though it is easy to work with. Stability is also not its strong point, unlike ipe.
Rubber wood price
The cost of Hevea varies according to certain elements, among which is mainly the thickness of the panel. As an example, a rubber panel with a thickness of 18 mm costs at least 35$/m². For a 40 mm thick panel, the average cost is 70$/m². However, for the same thickness, a hevea panel costs 25% to 50% less than an ipe panel.
How to maintain rubberwood furniture?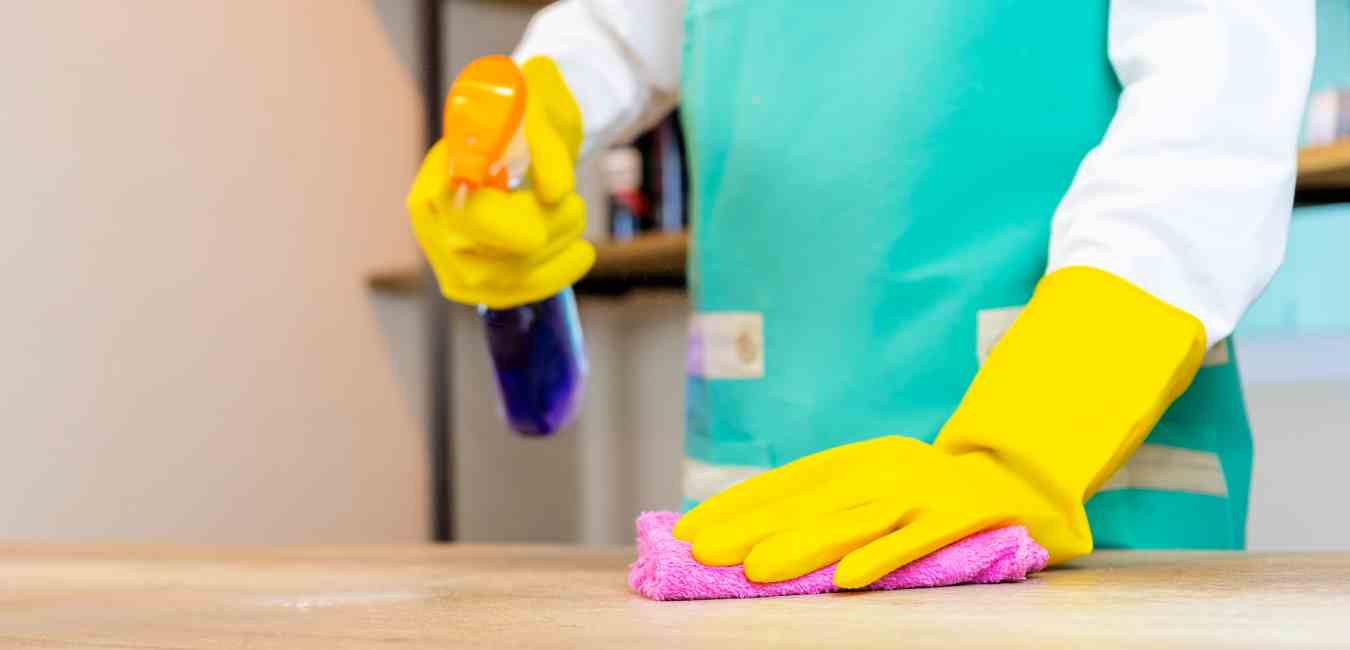 The maintenance of a piece of Hevea wood inevitably involves the application of a preservation treatment. In this case, several options are available:
Varnish
A protective film on the surface allowing to keep the raw aspect of the furniture while protecting it.
Paint
Gives color to the furniture while providing an original and modern touch. It also offers excellent resistance to everyday aggressions (liquids, rubbing, scratches…).
Waxes and oils
Impregnation finishes penetrating the fibers of the wood to strengthen them.
Once treated, rubberwood will be very easy to clean because it is now resistant to liquids and daily shocks.
If the wood is waxed, cleaning is limited to dusting with a clean cloth for as long as desired.
If the wood is oiled, painted or varnished, simply use a sponge soaked in soapy water and wipe with a soft cloth.
To restore the shine to the varnish of a piece of rubberwood furniture, after cleaning it, you need to mix a tablespoon of white vinegar and a tablespoon of vegetable oil.
After that, you should pour a few drops on a microfiber cloth and gently rub the wood with it, then dry.
What are the alternatives to rubber wood?
You want to take full advantage of the intrinsic qualities of exotic wood during your interior design or furnishing project, and unfortunately you are reluctant to opt for rubberwood because of its weaknesses (non-durable, sensitive to frequent humidity, not very stable…)?
In this case, you can choose teak, which has the advantage of being rot-proof and known for its resistance to frequent humidity.
While rubberwood is intended for indoor use in a dry environment and requires a specific treatment to withstand water, teak is naturally resistant to moisture and can be used indoors and outdoors.
Its authentic and natural style will seduce many, especially since it requires very little maintenance. This species combines perfectly with metal elements without causing corrosion or rust, which is not the case with other types of wood.
Related questions
Is rubber wood the same as MDF?
The main difference between rubberwood and MDF (medium-density fiberboard) is that the rubberwood is a type of hardwood that comes from the rubber tree and MDF is the wood waste products (sawdust essentially) and mixing it with resins. [1].
Is rubber wood better than teak?
Although rubberwood is resistant to fungus, bacteria and mold, it needs a preservative before you can use it for outdoor pieces. Rubberwood is best suited for indoor projects while teak claims top billing for outdoor pieces
Conclusion
Once rubberwood no longer produces latex, it can be recycled by using its wood to make beautiful furniture, but also for interior joinery. At this stage, it is already very mature and has a great firmness. It is appreciated for its light color, its hardness, its robustness, its resistance to shocks, but also for the fact that it is very easy to work and can be used for any purpose.
Unfortunately, its sensitivity to humidity and its vulnerability to fungi and insects have made it a species that is more suitable for indoor use. Hevea also requires proper treatment to remain in good condition over a long period of time. So, if you are looking for an exotic species that does not have the disadvantages of hevea, you can choose teak or ipe.
References
[1], [3] https://en.wikipedia.org/wiki/Hevea_brasiliensis
[2] https://en.wikipedia.org/wiki/Latex
[4] https://en.wikipedia.org/wiki/Wood_drying
[5] https://www.statista.com/statistics/1121809/thailand-timber-production-volume-by-type/
[6] https://woodhappen.com/what-is-rubberwood/
[7] https://fsc.org/en
[8] https://www.difference.wiki/rubber-wood-vs-mdf/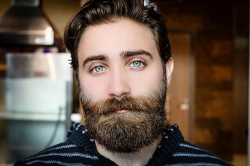 Latest posts by Adam Davis
(see all)