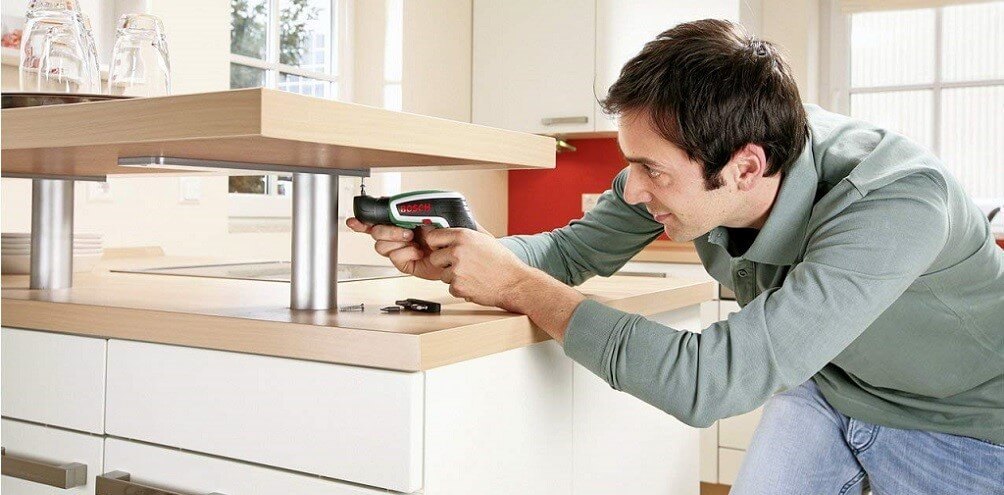 A good cordless screwdriver will be useful to carry out your assembly work in your diy project. It's thus important to choose the right model based on the complexity of your work.
Some of the must have characteristics to check include the power of the device, the autonomy of its batteries and its practical functions.
That's the main reason why we created this guide which will help you make the right choice. But, if you can't read this guide in full, check out the following cordless screwdriver options which is one of the bestselling on the market.
Most users appreciate the Bosch IXO Deluxe for its unparalleled ease of use. It has various functions such as the eccentric adapter and an automatic spindle lock.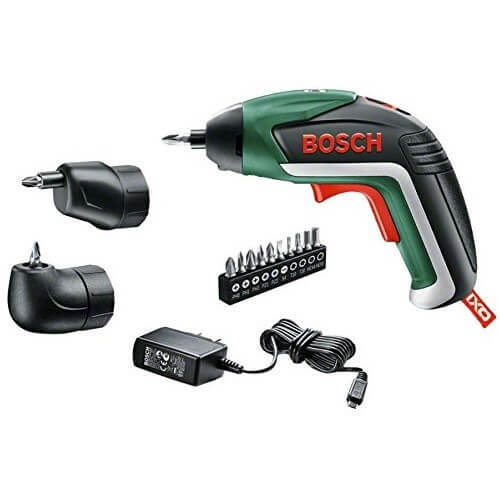 Photo:amazon.com
What I like 
With this cordless screwdriver, you can start your screwing / unscrewing work in all cases. An angle transmission allows you to screw perpendicularly while the eccentric adapter allows you, not necessarily in the axis of the chuck but flush.
What I don't like
Unfortunately, this screwdriver does not have a speed variator or torque adjustment. A torque converter is available as an option, but its use prevents that of the angle transmission and the eccentric adapter.
Take Away
Here is a cordless screwdriver with which no place will be inaccessible to you thanks to its particularly well designed shape and its various adapters.
How do I choose a cordless screwdriver?
A cordless screwdriver is a device that can be used by both professionals and DIY enthusiasts. You need to know a little bit more about how this tool works in order to choose the one that meet your needs. These criteria include the battery of the device, its screwing speed and the accessories that come with it.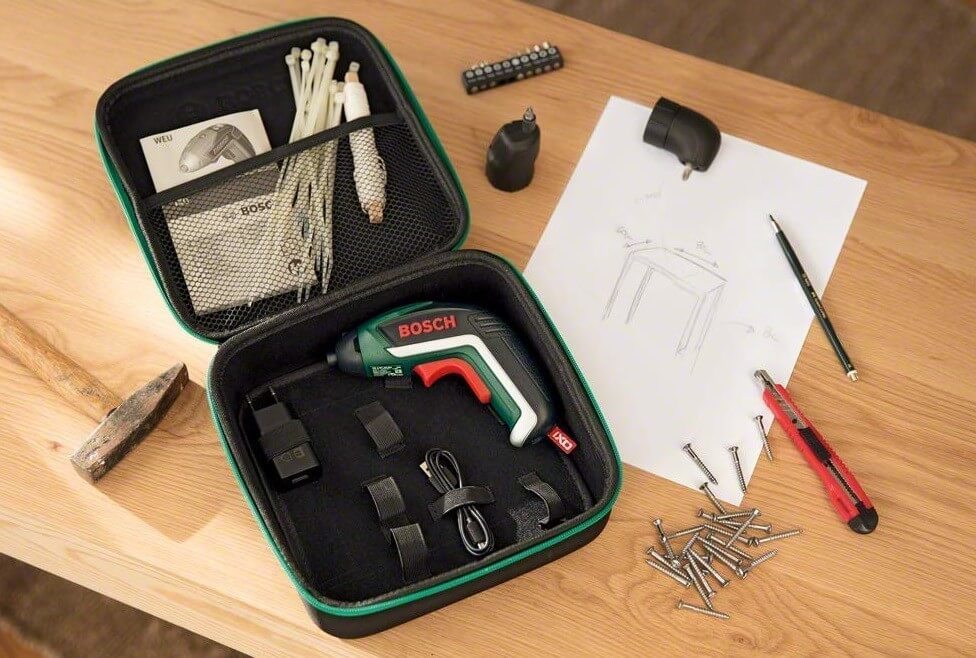 Battery
The quality and the type of the battery of a cordless screwdriver determine the possibility of using it in comfort and your saving of time in working on your project.
A cordless screwdriver may come with rechargeable batteries which are more convenient and involve minimal expenditure on electricity. Just make sure that the type of battery that comes with the model in question is tough, durable, and self-sufficient.
Its strength and durability allow you to use it for several years before having to replace it with a new battery. Its great autonomy allows you to work in comfort, because you will not have to frequently recharge it during full time  work. Among the good quality batteries is the Ion-lithium battery, but there are a large number on the market.
You can opt for these dual battery models to have more autonomy.
Speed
Speed is also an important selection criterion if you want to know how to buy a cordless screwdriver that has good value for money. The importance of the speed allows you to save time in carrying out your screwing work. Additionally, the ease of controlling the speed helps you to screw different types of materials without much effort and with good precision.
It is preferable that the speed is adjustable. An adjustable speed allows better control of the device for each specific type of screwdriver. This allows you to screw in different types of materials without any difficulty and without the risk of damaging the assembly due to an inappropriate speed for the object to be screwed.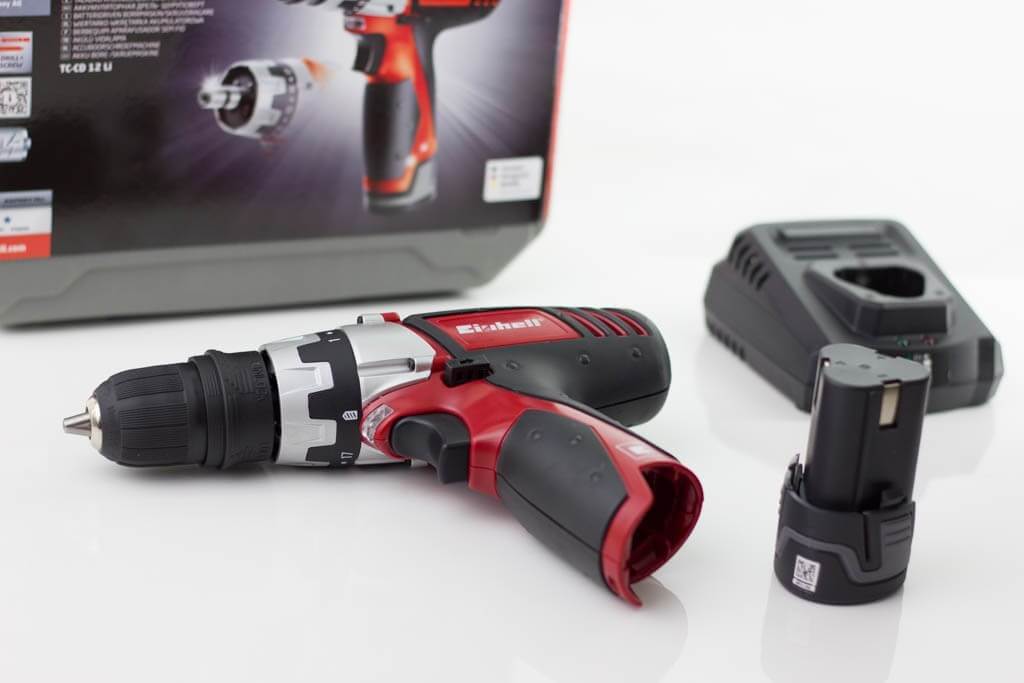 The accessories
Don't buy a cordless screwdriver until you until you have gathered enough information about the accessories that may come with the product. The accessories that come with a cordless screwdriver can also be variable. That's why it's best to check and list the ones that come with the model you're interested in and relate them to the type of work you're going to be doing. Cluttering yourself up with a lot of unnecessary accessories won't do you any good.
These accessories may include an eccentric adapter for more comfort, a dust protection system or a lighting system to be more precise with each screwing.
The 3 Best Cordless Screwdrivers (Reviews & Tests) of 2021
1. Bosch IXO V Cordless Screwdriver Set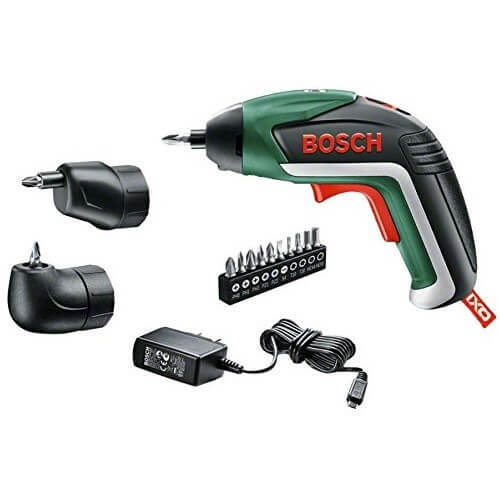 Photo:amazon.com
The soft grip of the Bosch IXO V Deluxe cordless screwdriver makes it easy to grip and handle. The device's battery provides it with great autonomy and charges in record time.
Only downside of this model: its speed is not variable. In addition, its power is quite low and does not overcome some hard surfaces.
Despite its low power, the Bosch IXO V Deluxe model still deserves a score of 9.8 out of 10 for its ergonomics, ease of handling and great autonomy.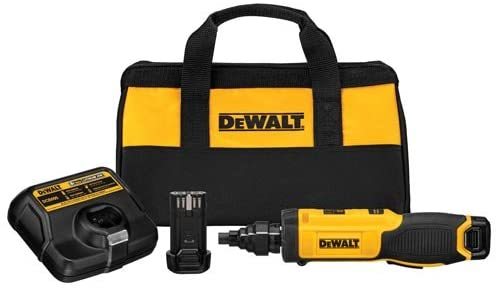 Photo: amazon.com
2. Dewalt 8V Max Cordless Screwdriver Kit
DeWalt is a reputable brand on the tools market and their 8V Max Cordless screwdriver does not disappoint. Full of features, this tool has a motion activated trigger to turn on the motor. You can then tighten or loosen the screw by twisting the tool.
What we liked most are the two LEDs that can light up the space you are working on as two adjustable positions allowing you to use it as a pistol or straight screwdriver.
The clutch has 15 positions and the RPM goes up to 430 with a massive torque range of up to 40 inch. The entire tool is powered by am 8V lithium battery that charges fast (under one hour or so).
3. Milwaukee 12-Volt Cordless Screwdriver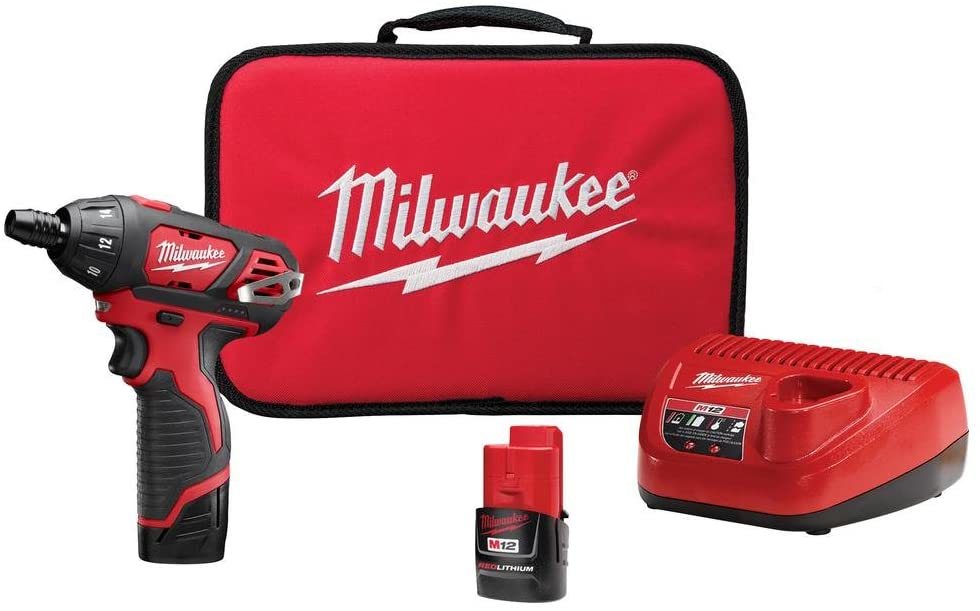 Photo:amazon.com
The Milwaukee 2401 12-volt cordless screwdriver is not the fanciest tool out there but it can certainly get the job done. You can't go wrong with it.
It has pistol grip powered by a massive 12-V lithium-ion batteries which can create a torque up to 175 inch-pounds. The RMP goes up to 500 which is handy for quick fastening. It also has a 15-position clutch.
The tool itself is slightly heavy but quiet manageable when it comes to portability. The battery charges is 30 minutes or less which is incredible for all that power.
How to use a cordless drill / driver?
The cordless drill driver is very popular for being light, portable and quick to use. Indispensable tool for fixing in general, the drill screwdriver is very practical for all operations requiring the perforation of the wall, wood or any other object or material. To familiarize yourself with its use, we recommend that you see these next paragraphs.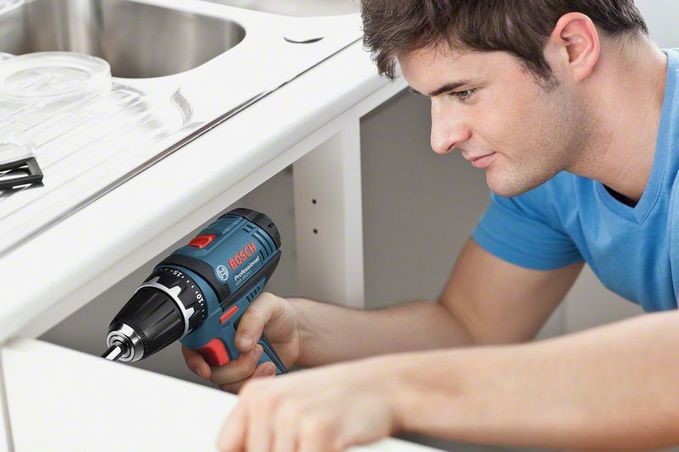 Know the right type of drill / driver
We note the percussion drills and those without percussion. Use the first category if you plan to do heavy work in difficult materials. Choose the second option otherwise.
Choose the tip to use
First you need to determine the type of work to be done: drilling or screwing. Then you should define the diameter of the hole or screw before choosing the appropriate bit. If you plan to drill, choose a bit or a bit depending on their category: wood, metal or concrete. On the other hand, if you want to screw, use a screwdriver bit which is adaptable to the head of the screw.
Install the mouthpiece
First, manually loosen the chuck so that the bit holder jaws can move apart. Then, insert the nozzle as it should and tighten it. It is still prudent to inform you that this technique is designed for machines with a self-tightening chuck. If your model does not, you should use a wrench to loosen it.
Select the intensity of drilling or screwing
It is important to pay attention to this step to avoid damaging the material you will be working on. In drilling mode, remember that you have to act gently on certain materials so that they do not split or break. So set your machine to first gear if it has two. However, go faster on consistent materials in order to dominate them. In tightening mode, select first gear if you want the screw not to go too deep. Otherwise and also in front of harder materials, go to second gear.
Check mode
Before starting your task, see if the mode selection button is on screwing or drilling. This is a very important passage, because careless mistakes or even false manipulations can cost you dearly.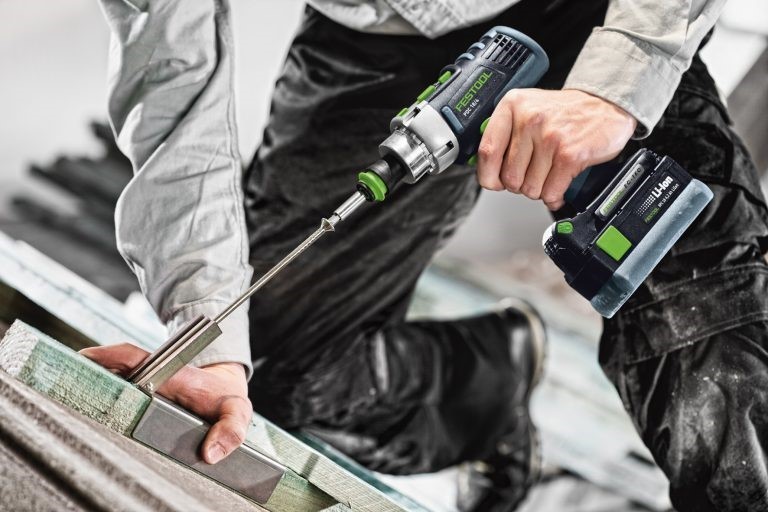 Start drilling or screwing
Once you have completed all of its stages, you can now move on to carrying out your work. Place the bit on the spot where you want to drill, or on the screw you want to screw. Then squeeze the start trigger. Hold your device firmly, with both hands if necessary, and let go of the trigger as soon as you reach the limit in your task.
Allow the engine time to rest
To maintain the material in the long term, it is best to avoid stripping large areas for very long times without giving the engine cooling periods.
You may also like: