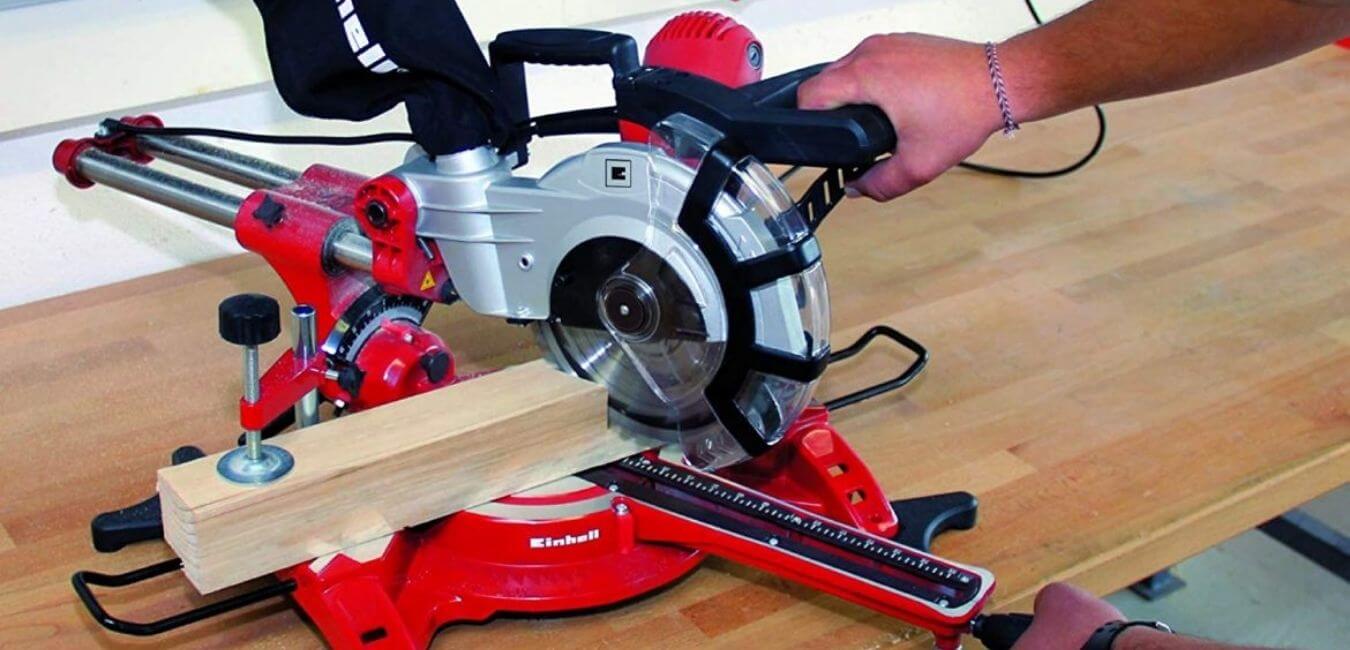 This is our review of the Einhell tc-sm 2131 dual saw.
Main advantage
The Einhell TC-SM 2131 Electric Miter Saw is the most efficient in its class for two reasons: 1800W of power, combined with a 48-tooth tungsten carbide saw blade.
Main disadvantage
The chronic disruption of the angle calibration system takes up a good part of the creation of a part. It is necessary to redo a tuning with each use, to ensure the correct measurements.
Verdict: 9.4 / 10
Considering the power of its motor and the saw, the Einhell TC-SM 2131 gets praise from DIY enthusiasts.
Main Features Explained
Technical characteristics
The Einhell TC-SM 2131 electric miter saw in red color is delivered to you in a semi-kit. In other words, part of the equipment is already assembled in the factory, some elements still need to be put in place. However, you should take a good time to read the installation and user manual for proper assembly and optimal use.
The pack thus includes the radial miter saw, a tungsten carbide saw blade, and a dust bag. Considering its weight of 11kg, the Einhell brand has equipped this equipment with a graduated table to keep the workpiece firmly fixed. For more security, it is also equipped with ratchets for a very resistant tightening. The equipment operates from a 230V mains supply.
Capabilities
In the opinion of many DIY enthusiasts, despite some noticeable concerns about settings and installation, the Einhell TC-SM 2131 is one of the most efficient electric miter saws in its class. And for good reason, just the presence of the saw blade with 48 teeth and a diameter of 210 millimeters already says a lot about the device.
Coupled with a power of 1800W, the equipment spins in idle rotation at 5000 revolutions per minute, more than enough to make cuts of more than 200 meters continuously. The tungsten carbide blade also explains this capacity, this material being the benchmark in terms of power / efficiency ratio.
In cross section, this saw cuts 310 x 62mm. For more precision, the fixing table allows an inclination of 45 ° on either side of the main axis. In addition, the saw head itself has these same capabilities. To complete the work, a system of slides with a stop on both sides of the central position allows each piece to be worked at the right angle of attack.
Some things to watch out for
Even though the Einhell TC-SM 2131 electric miter saw enjoys the satisfaction of many users, there are still areas for improvement to achieve flawless performance. The main one is at the level of the dust bag. During intensive use, dust goes everywhere except in the bag. The laser sighting system pays the price, as it clogs up incredibly quickly.