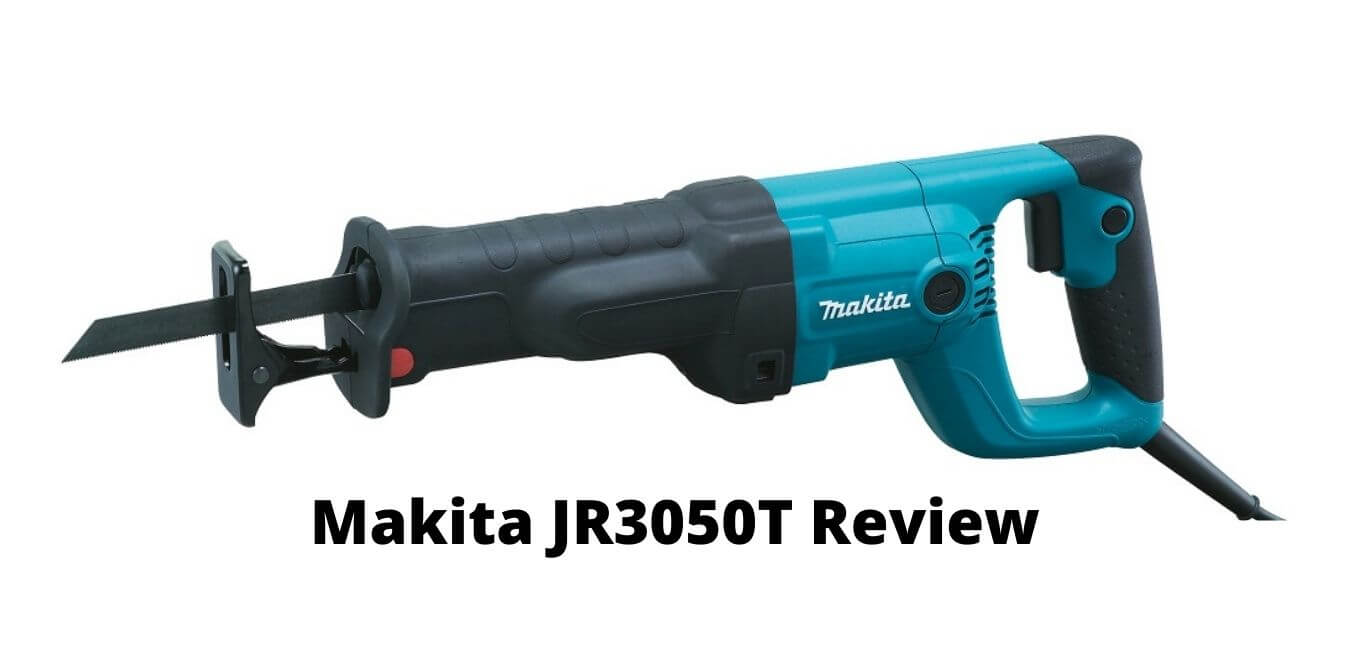 This is our review of the makita jr3050t reciprocating saw. It has powers 11amp and is very consistent in speed. Furthermore, it's compact and lightweight making it the perfect companion for DIYers.
Makita Sawzall Main advantage
Whether cutting metal or steel, the Makita JR3050T is powerful in handling tough materials with its 90mm cutting performance. It is excellent in controlling vibrations and most of all a very good value for money.
Main drawback
Even if the cable is long enough for more freedom, some would argue that it gets tangled all the time and will do more harm than good. It's worth mentioning that it has no orbital action as well.
Verdict: 9.5 / 10
This model guarantees a saber saw that is both efficient and ergonomic, except for its maximized efficiency without requiring too much effort from the user.
If you want a lightweight, small reciprocating saw that will cut through any material quickly, choose this one. Only pass if you require quicker cutting speeds and are prepared to sacrifice size and weight in exchange for a larger motor.
Makita jr3050t reciprocating saw Main Features Explained
Powerful
This unit will be able to cut all types of materials even those which are particularly robust, thanks to its power of 1010 watts. Even if most saber saws emit quite disturbing vibrations, this device is designed to limit these small disturbances, with a triaxial vibration rate of 23.5 m / s².
Its 90mm cutting capacity promises more powerful cuts, even when processing sturdy materials such as steel or metal. Moreover, the rate at which the model saws material includes a maximum cut of 2800 cps / min.
Besides its blue and black design, the device has been well manufactured in such a way as to protect against all exogenous factors such as dust and other surrounding dirt.
Comfortable
The grip is relatively comfortable, thanks to its Soft Grip coated handle. Furthermore, it is made entirely from a rubber coating. Weighing only 4.54 kg, you can easily handle the device, even when working at height.
Being equipped with a trigger, you can adjust the cutting speed of the unit according to the result you want to achieve. It's easy to start slowly and increase throughput as your jobs take shape.
This model is a profitable investment because it comes with different quality blades, including a regular blade, one for wood and another for metal. The design of the model includes a constant balance between its user and the machine, so that you don't have to press hard on the device.
Vibration Control
You can choose between two models in this situation. The JR3050T, which is the one we're evaluating, has a lock-on button. Without the lock-on feature, the saw is exactly the same as the JR3050TZ.
Apart from that, this Makita Recipro Saw's lack of features is the only thing that comes close to being a weakness in its defence. A pivoting, easily adjustable shoe is included. Makita decides to use a red switch in the front to open the shoe. Some of our Pros prefer this design to the lever-style releases on other saws since it is straightforward and functional.
The two-finger trigger is clearly preferable to a one-finger version for reducing some of the finger tiredness that develops throughout long days. Given that you have a lock-on switch, it might not be as significant on this model, but on the JR3050TZ model, you'll definitely value it.
Even smaller hands may get a firm hold on the front handle because it shrinks down to a reasonably manageable size. It's a rather comfortable saw to wield and both handles have a lot of rubber overmold.
Ease of use
Its wired system does not make this device difficult to use. Indeed, the power cord measures 2.5 m in length to give you all the freedom of movement you want. Besides this aspect, the device is 13.5 cm long, 55.1 cm wide, and 31.2 cm high.
Makita JR3050T can accompany you wherever you plan to tinker, quite simply by storing it in its solid and well-organized box, also included in the purchase.
No need to consult an instruction manual to understand the use of the device, because you can proceed with the installation of the blades of the device, without too many constraints. Moreover, the manufacturer provides buyers with a one-year warranty to cover any possible incident and damage.
Conclusion
In our tests, the Makita JR3050T Recipro Saw comes in a close second position and is unquestionably superior to the majority of other saws in the 10–12 amp power class. We find it simple to recommend due to its consistent cutting speed and more portable and light frame. The best part is that its is affordable enough to make it simple for professionals and provide DIYers access to a far superior instrument.
Buy this if you want a lightweight, compact saber saw with consistent cutting speeds in all materials. Only suitable if you need higher cutting speeds and are willing to trade size and weight for a larger motor.
Frequently asked questions
What is the difference between a reciprocating saw and a Sawzall?
They are actually the same thing. The Milwaukee tool company introduced the first reciprocating saw in 1951, and called it the Sawzall. It has since been so widely copied that the terms reciprocating saw and sawzall are now used interchangeably [1].
What is the most powerful Sawzall?
The 15.0 Amp Super Sawzall® Recip Saw is the fastest, most durable recip saw in the world. It is the first Sawzall® Recip Saw to include Constant Power Technology™ which maintains constant speed and power under load for unmatched cutting performance [2]
Can a Sawzall cut through anything?
With the right blade, your sawzall can cut through wood, nails, fiberglass, branches, plaster, masonry, and metals including aluminum, cast iron, steel, and even high-strength alloys. But how do you choose the proper blade for the material you need to cut? There are many blade characteristics to consider [3]
Further reading and References
[1] https://www.bobvila.com/articles/jigsaw-vs-reciprocating-saw/
[2] https://www.milwaukeetool.com/Products/Power-Tools/SAWZALL-Reciprocating-Saws/SAWZALLS/6538-21
[3] https://www.discountsawblade.com/reciprocating-saw-blade-buying-guide_a/258.htm