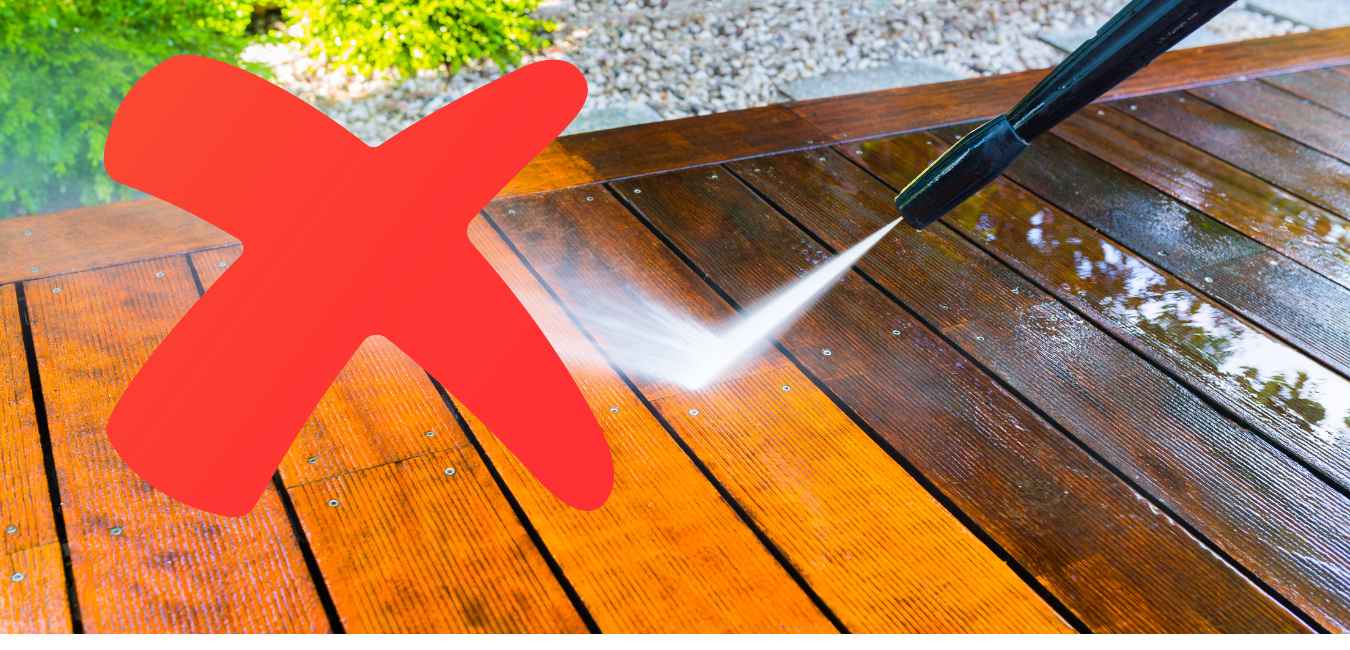 If the maintenance of a teak or exotic wood deck requires little care, this cleaning is not to be taken lightly! An unmaintained wooden deck can quickly become overgrown with moss and therefore slippery.
Discover our 3 tips and 9 effective techniques on how to clean a wooden deck without a pressure washer.
How to maintain a wooden deck
1 – Don't use just any cleaner
Be careful not to clean the deck with non-ecological products, such as bleach, which could kill the plants.
2- Rinse the deck with plenty of water after cleaning
Rinse to remove the cleaner from the deck, otherwise it will continue to work.
3 – Dry carefully with a mop after rinsing
Stagnant water will eventually rot the wood.
How to clean a wooden deck without a pressure washer – 9 techniques
Caution
Not all woods react the same way. Before cleaning the entire deck, always test the cleaner on an area not in view.
For example, soda crystals or percarbonate are effective products for cleaning the deck, but they may bleach some woods.
If you use these products, rinse the deck as soon as possible with water and a few drops of vinegar.
1 – Citric acid
If your wood deck is covered with moss, clean it with a brush using citric acid (3 tablespoons of citric acid in half a liter of water)
Citric acid can successfully remove moss from your wood deck in a natural and ecological way.
2 – Bicarbonate
Baking soda is ideal for removing green deposits, such as moss, from a deck.
Scrub the deck in its wood with a broom generously impregnated with a solution of 4 tablespoons of bicarbonate for 1 liter of water.
Rinse with a jet of water.
3 – Dishwashing powder
If animals or plants have left traces on the wood of the deck, clean it thoroughly with a broom wet with a solution of hot water and washing powder.
Scrub. Rinse.
4 – Black soap
Regularly, especially when the weather is fine, wipe the deck in the direction of the wood with a broom soaked in water and a few drops of black soap.
Rinse the terrace with plenty of water.
Dry.
5 – High pressure cleaner
High-pressure cleaning of wood decking is not recommended for gratings or deck boards, as it may damage the wood over time by destroying its natural protection.
This cleaning should therefore only be done in exceptional cases, and with the karcher at least 50 cm away from the deck.
6 – Soda crystals
In the direction of the grain of the wood, clean the wood deck with a broom soaked in a solution of hot water and soda crystals (1 cup of crystals for 1 liter of water).
Rinse.
7 – Cleaning deck with baking soda
This white powder, composed of both sodium carbonate and hydrogen peroxide, will get rid of even the dirtiest wood decks.
Clean the deck with a brush using a solution of one part soda ash (or sodium percabonate) to 10 parts warm water.
Rinse the deck with plenty of water.
CAUTION
Percarbonate or soda crystals can bleach the wood. Do not leave these products on for too long without rinsing the deck.
8 – Wood Cleaner and Degreaser – WoodGuard Revitalizer
With WoodGuard Revitalizer, you can clean the deck, degrease the wood and restore its original natural color.
The wood cleaner and de-greaser is also available in small format.
9 – Spatula
Once a year, use a spatula to scrape the space between 2 wooden boards to remove any possible dirt build-up.
If the wood deck has a bad odor, clean it, rinse it, dry it, then sprinkle the wood with baking soda.
Leave the baking soda on for several hours, then vacuum or sweep the area.
Protecting a wooden deck – 3 tips
1 – Be careful with garden furniture!
Avoid installing wrought iron chairs, tables or other painted garden furniture on your wooden deck because they may leave stains that are difficult to remove.
2 – Avoid oil to protect your wood deck
3 – Protect the wood of your deck with a stain remover
We recommend an invisible stain remover. This water repellent, waterproofing anti-stain, ready to use, invisible allows to waterproof and protect siding, fences, shutters, paneling, parquet, garden furniture, saunas, wood decks, from weathering, moisture, graying and all types of dirt.
What type of wood is best for a deck
Exotic wood
Like iroko, teak or ipe. These woods are very resistant.
Softwood
Like larch, spruce, pine or Douglas fir. These are less resistant woods.
European wood
Like oak or chestnut. These are woods of exceptional durability.
There are also composite woods, i.e. woods made of wood fibers, wood husks, bamboo or only plastic, or rectified woods, i.e. woods heated at high temperatures.
Frequently Asked Questions
Vinegar and baking soda are a powerful couple when it comes to natural cleaners. To clean your deck, combine 240 ml vinegar with 3.8 litres of water.Sprinkle baking soda on any mildewed timber and use the vinegar and warm water to scrub over all the boards.[1]
To avoid damaging your decking, create a gentle cleaning solution with warm water and liquid dish soap. Alternatively, you can use a speciality wood deck cleaner. Saturate the surface and scrub the deck with a stiff-bristled brush or sponge until the cleaning solution starts to lather [2]
Issues can arise when vinegar is left to sit on decking for too long, as doing so can seep the color out of the wood. Using undiluted vinegar is especially harmful, as the stronger concentration results in even more acidity that can damage your deck [3]
Make a plant-friendly deck cleaner at home.

OxiClean contains sodium percarbonate, a hydrogen peroxide derivative that is effective at removing a wide range of difficult stains and spills. Best of all, it is eco-friendly and biodegradable, which means it will not damage plants or pollute the atmosphere [4]
Conclusion
To the question how to clean a wooden deck without a pressure washer, we answer that there are various ways to do so. We hope that one of the 3 tips and 9 effective techniques we shared in this article will meet your needs.
References
[1] https://trexprotect.com/blog/how-to-clean-your-deck-the-right-way/
[2] https://www.lovethegarden.com/uk-en/article/how-clean-garden-decking-effectively
[3] https://wocawoodcare.com/blogs/exterior-wood-care/is-deck-cleaning-with-vinegar-safe
[4] https://homesmiles.com/2021/04/07/how-to-make-a-homemade-deck-cleaner/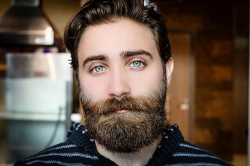 Latest posts by Adam Davis
(see all)