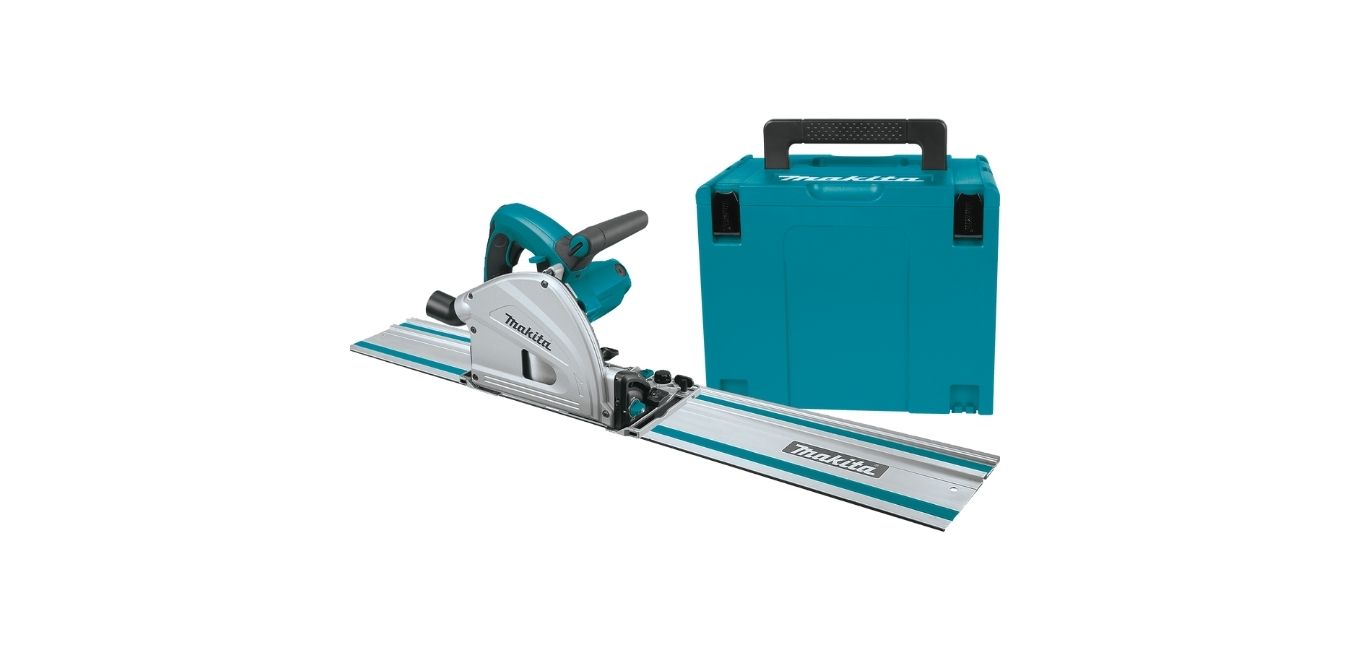 This is our review of the makita sp6000j1 plunge track saw.
Overview
If you are a professional woodworker or contractor then the Makita sp6000j1 is probably one of these plunge circular saw kits that you would want. In the kit you will find a 55-inch track with the option of getting even more tracks, should you wish to.
As notable features we can mention a 12-amp motor and a depth cut up to 2-3/16 inches. It also has bevels from -1 to 48 degrees.
You can flip a level to stop the cutting depth thus allowing you to control how deep you cut your material. One final feature we really love is the ability to adjust the speed up to 5,200 RPM just by pressing a dial button on the handle.
This Makita tool is definitively a great saw with lots of options. The only downside (if any) is that you will have to use a bit of muscle when cutting through dense materials.
Pros
What we like about the Makita sp6000j1 kit is that it's powerful and precise.
The design is durable and it's portable e.g lighter on the weight side.
You can cut through wood without tear or splinter.
It comes with a built-in dust extractor and most of all you can perform a variety of cuts.
Cons
We found the cord to be on the short end for some specific projects which is not a big deal if you use an extender.
Verdict
We have rated this track saw as 9.5/10 due to its fantastic performance, great features and reasonable price.
Key Features
Good performance thanks to a poweful 12 AMP motor

Precise cuts with splinter free finish

Adjustable speed from 2,000 to 5,200 RPM

Great cut depths

Lock systems for hassle free bevel cuts

Built-in dust blower

Easy to use design

Rubber made handles for comfortable cuts

Light and portable track saw (70% lighter than traditional saws).
Makita sp6000j1: What's in the box?
You have the option of picking 4 flavor of the Makita sp6000j1:
You can get the saw only

Saw + guide rail connector kit

Saw + clamper set

Saw + guide rail, connector kit and clampers
If you are just getting the standard plunge track, then you will get:
Plunge Circular saw

Guide rail 55 inch

Interlocking case

Hex wrench
Should you buy the makita sp6000j1 track saw?
Clearly the Makita sp6000j1 stands out when you look at the price to performance ratio. From what we gathered, the sp6000j1 is one of Makita's finest saws and believe that it's a very good alternative to the like of festool (on the higher end) or dewalt (hit and miss).
We are convinced that once you give it a try, the Makita sp6000j1 will be your go to tool for your diy projects. Obviously, you need to be clear on your needs.
Buying guide – How to choose a good circular saw?
Circular saws have been available to individuals for several years now. However, it is necessary to make the right choice so as not to waste your money on the wrong model. This buying guide for the best circular saws will help you make the right choice in this matter. By following our advice, you will save time and make a good investment.
Safety and blade features
How do you buy the best value circular saw? The answers are simple: make sure you are safe and that the blades are reliable.
So, no matter which model you are interested in, always make sure that the device has a safety switch, a receptacle for waste and dust and also, a guide rail. It is necessary that the tool can also protect itself to serve you better over time. You will understand that this tool is quite dangerous so, for your safety and also in a search for practicality, be demanding on these three points.
Then, regarding the blade, it must be strong enough to allow you to cut all kinds of materials. This way, your purchase will be a real investment and in addition, you will make palpable savings as far as the blade is concerned. Indeed, circular saw blades are quite expensive, so make sure that the one you are interested in is reliable and solid. Finally, don't forget to pay attention to the warranty that the manufacturer offers, it is a pledge of seriousness on his part.
Once you have checked these two points, it will be easy for you to move on to the next step to make the right choice in terms of circular saws.
Power and practicality
Generally, circular saws have a power between 500 and 2500W. Logically, the more powerful a circular saw is, the more it can perform all kinds of cuts for you. However, for occasional use, a circular saw with a power between 750 and 1500W will do very well. Beware of noise and vibration, though, because the more powerful a circular saw is, the more likely it is to make noise.
Also, to make sure the tool is practical, don't forget to ask about its weight as well as the comfort features it comes with. Finally, cordless models are more convenient, but they have a rather limited autonomy, unlike corded models that often have a device to prevent the cord from bothering the user.
Versatility, maintenance and storage
Before you start looking for a new circular saw and go to a price comparison site to find the right deal, make sure the model you're interested in can tackle all kinds of materials. Also check the number of cutting depths it can offer as well as the tilt angles it allows.
Don't forget to ask about the blade changing options and the steps to take to maintain it, and finally, if you only have a limited amount of space in your home, opt for a model that comes with a storage case. Once you have checked all of the above points and the model you are interested in meets all of the criteria, you can move on to the next step: purchasing.
Frequently asked questions
Are Makita track saws worth it?
It's powerful, it's easy to use, it's accurate, and it's quality. So if you're looking for a Track Saw set up I can 100% recommend the Makita [1].
Is Makita Chinese or Japanese?
Jujiro Goto became President. Started marketing 1000 portable electric planers, the first product in Japan. Transformed into an electric power tool manufacturer [2].
How deep can a Makita track saw cut?
The MAKITA track saw has a cut capacity of 2-3/16" at 90 degrees and 1-9/16" at 45 degrees [3].
References
[1] https://www.therecreationalwoodworker.com/blog/makita-track-saw-one-year-review
[2] https://www.makita.biz/company/history.html
[3] https://www.toolboxbuzz.com/cordless-tools/makita-cordless-6-12-track-saw/