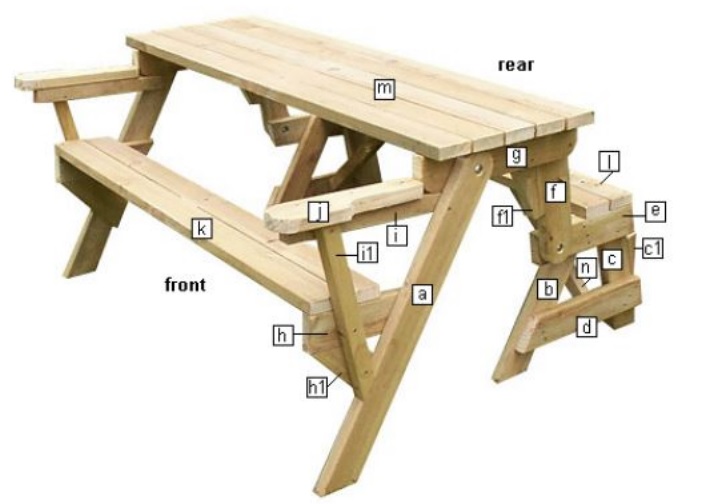 Free Folding Picnic Table Bench Plans Pdf : I am sure that as a woodworker you have faced the challenging task of finding a detailed plan to build some custom projects which meet your specific needs. This is quite a common problem faced by many woodworkers today.
2 In 1 Folding Picnic Table and Bench Combo
This is a folding bench and table 2 in 1 type of project.
You can literally complete this project within a weekend thanks to the step by step instructions with detailed lists and diagrams.
The Size of the final product
This 2 in 1 picnic table and bench combo is idea for those small spaces. Indeed, the picnic table folds down to bench seat.
Either a 2 ½ seater bench seat (2 adult and a kid) or a 5-seater picnic table.
The front seat spans 1380 (54-3/8"); the rear seat spans 1245 (49") and the tabletop spans 1480 (58-1/4").
Material List
Note that stock sizes are actual sizes. Enquire at your local lumber store regarding the availability of the following lumber sizes. If different sizes are used, then slight adjustments will need to be made to the length of the bolts and also the length of the seat and tabletop members.
You will need:
16m (53ft) of 90×32 (1 ¼ x 3 ½) natural decay-resistant or treated lumber.
7m (23ft) 90×45 (1 ½ x 3 ½) natural decay-resistant or treated lumber.
4 of 10mm (3/8") carriage bolts 70mm (2 ¾") long and self-locking nuts
100 of exterior type wood screws 50mm (2") long
16 of exterior type wood screws 75mm (3") long
Exterior wood glue.
Free Folding Picnic Table Bench Plans Pdf: Tools you will need
Drop saw. Able to cut accurate angles

Jig Saw

Electric drill

Hammer, Hand saw, measuring tape, pencil, square, screw driver, level
10mm (3/8") drill bit for bolt holes

3mm (7/8") drill bit to embed bolt heads (bit must be larger diameter than bolt head)
Note: To view the file, simply right click on the link and click on "save link" or "save target". This saves the file to your computer so that you can open it. On some browsers, it will automatically save the PDF once you click on the link.
The following video shows of the final product
Don't Have Time To Build Your Own?
The bench shown below is a convertible bench/table faux wood construction. It's a shortcut to the same result if you don't have time to build it from scratch.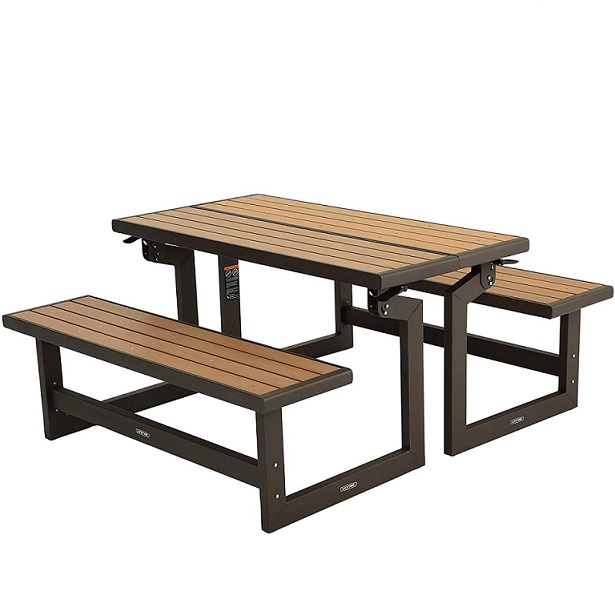 Image Credit: Amazon.com
This bench/table has an overall width of 36.2 cm and seat length of 88.6 cm. It can hold 226.8 kg and picnic table's weight capacity is  90.7 kb.
One person can convert it from bench to table in mere seconds. Quite durable and weather proof, this bench will be a good addition to your garden.
You get a 2-year limited warranty from the manufacturer.
Fancy learning more?
Great! Teds Woodworking Projects offer fantastic plans with clear step by step instructions on how to bring your ideas to life.
There is no doubt that you will feel accomplished and proud of yourself for making your own woodworking projects.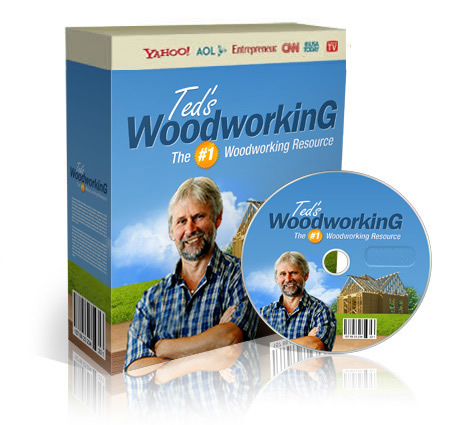 Click The Image Above To Go Check Out What Thousands Of Woodworkers Already Know
Frequently Asked Questions
How wide is a picnic table bench?
The tabletop width ranges from 27 to 30 inches. At that width, you can fit six table settings along with drinks, condiments, and fixings. The entire width of the picnic table, from bench to bench, is around 60 inches [1].
How far should a bench be from a picnic table?
The distance between the bench seat and the tabletop should be 1'to allow for proper seating height and leg clearance. Although they vary slightly based on design, the length of the bench from end to end should be equidistant to the table's legs! [2].
Further Reading
References
[1] https://www.outdooressentialproducts.com/en/Projects/Standard-Picnic-Table-Size
[2] https://www.bleachers.net/benches-and-picnic-tables/picnic-table-specifications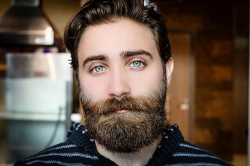 Latest posts by Adam Davis
(see all)